Homeowners want the outside of their homes to look just as nice as the inside, right? Driveways, a patio, and porches can make a home look stunning, depending on the style you go with and of course the contractor you choose. OKCrete is the #1 concrete contractor in Tulsa, Oklahoma and we want to help transform your home into the beautiful landscape it deserves. After all, it's much more than just a plain old concrete slab.
We offer services that include concrete driveways, patios, porches, pool decks, retaining walls, decorative concrete, and much more. So, whether you're looking to revamp the look of your home, or want to spruce it up so the property value increases, let's get started.
First, check out this TikTok on why concrete > other materials.
Concrete Driveways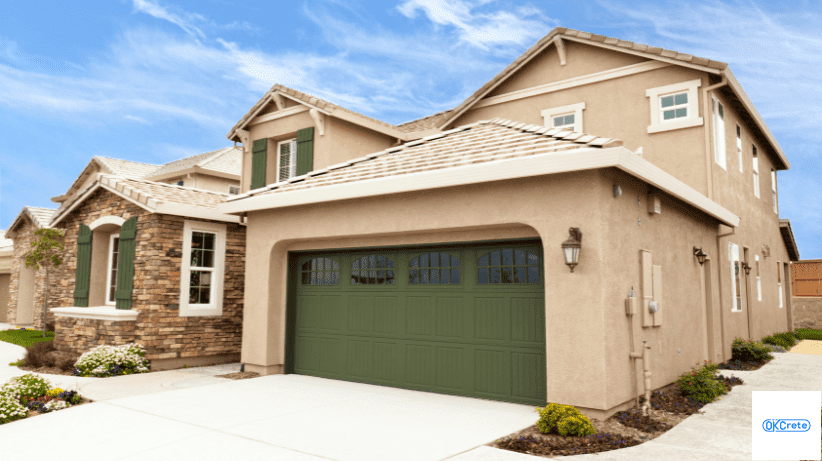 A concrete driveway is durable and long-lasting, providing a sturdy foundation for vehicles to drive and park on. They offer strength, weather resistance, and low maintenance, and can be customized with various finishes and colors to enhance curb appeal. 
However, proper installation and considerations for potential cracking are important for ensuring their longevity and performance. Hiring a professional contractor is crucial for achieving a high-quality result.
OKCrete has a commitment to quality processes for all project types. When it comes to our concrete driveway jobs, this is what it looks like:
First, we'll answer your phone call or free estimate request. Next, we will come out to your home and speak with you, go over everything we will do, and start the job. We'll remove the existing concrete, tile, masonry, etc., and then cut the curb at the street and haul it off. We'll then remove 2 inches of dirt in the body of the driveway as well as 4 inches of dirt in the front.
Next, we'll move downspout water to the street to improve drainage, as needed. Installing a 2 inch rock base as well as a 3/8 rebar steel is next, and then we will pour cement at 4,000 PSI. Others' standard is a lower PSI, but we can pour higher as an upgrade.
We will then pour the driveway at 4 inches, saw cut, broom finish, or aggregate. We'll backfill at the edge of the poured driveway and haul off all debris as a result of our work. One thing we do that many of our competitors don't is add sealant as an optional upgrade usually 30-45 days later.
Needless to say, if you're looking for a concrete driveway that exceeds your expectations and makes your home look better than it does currently, you've found the right blog.
Concrete Patios and Porches
Combine the best of form and function with a durable concrete patio or porch in your choice of color and style. If you're tired of splintering decks that need to be replaced every 10-15 years due to mold, bugs, or general deterioration, chipped tiles with weeds growing through cracks in the grout, or composite wood decking that gets too hot in the sun, concrete is the way to go.
Outdoor spaces are always in an arms race against the weather. Whether it's sun, rain, snow, frost, wind or humidity, it can be challenging to find a material that lasts and doesn't require much maintenance.
While nothing is perfect, concrete comes pretty close – between impeccable durability, high customization, and easy cleanup, a well-built concrete patio or porch can last a lifetime, while adding style and class to your outdoor living area.
Concrete Patio and Porch Durability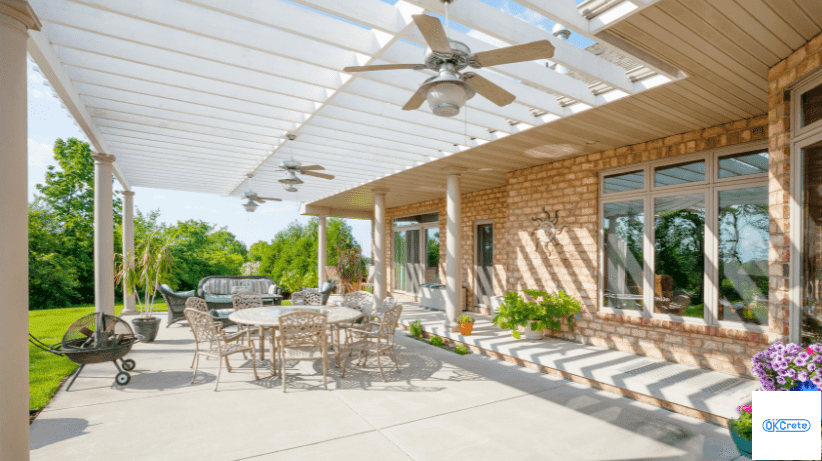 Concrete patios and porches are known for their durability and ability to withstand the outdoor elements. Here's an overview of their durability factors:
Strength & Load-Bearing Capacity: Concrete is a strong material that can handle heavy loads, making it suitable for patios and porches where people gather, furniture is placed, and activities take place.
Longevity: Properly installed and maintained concrete patios and porches can last for decades, often outlasting many other outdoor materials.
Weather Resistance: Concrete is highly resistant to weather conditions including rain, snow, and sunlight. It won't rot, warp, or deteriorate like wood or some other materials.
Freeze-Thaw Resistance: Concrete's ability to expand and contract with temperature changes makes it well-suited for regions with freezing and thawing cycles. Properly designed and constructed concrete surfaces can resist cracking and damage caused by these cycles.
UV Stability: Concrete is resistant to fading and degradation caused by UV rays, ensuring that the color and appearance of the patio or porch remain consistent over time.
Easy to Maintain: Concrete patios and porches require minimal maintenance. Regular cleaning and occasional resealing are typically sufficient to keep them looking their best and protect against stains and wear.
Design Flexibility: You can have stamped concrete, stained, or textured to resemble other materials like stone, brick, etc., providing a wide range of design possibilities to match your outdoor aesthetics.
Slip Resistance: Properly finished and textured concrete surfaces can offer good slip resistance, important for safety, especially in areas prone to moisture like patios.
Customizable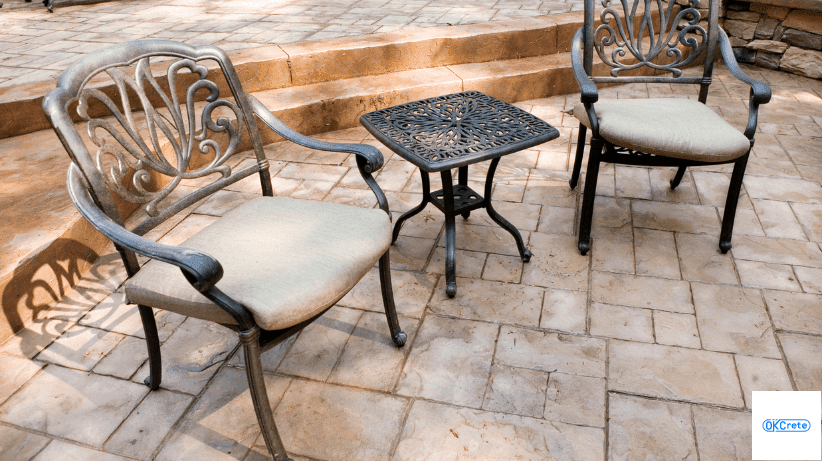 Concrete patios and porches are cost-effective due to their longevity, low maintenance requirements, material affordability, and design flexibility. Their durability and resistance to wear make them a long-lasting investment, while minimal upkeep reduces ongoing costs.
Concrete's ability to mimic pricier materials through customization further enhances its value, making it an economical choice for creating functional and attractive outdoor living spaces.
How Does it Add Value to Your Home?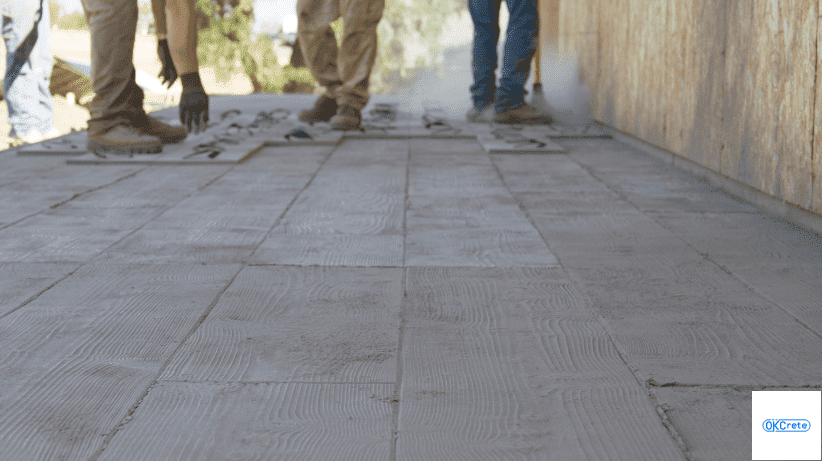 No one wants to buy a house with a rotting, old wooden deck or a backyard with a chipped stone patio. Investing in a patio can add value to your home and increase the curb appeal. It increases the aesthetic and functional value of your living space and makes your home more attractive to potential buyers, making it a smart investment for the future.
The Types of Concrete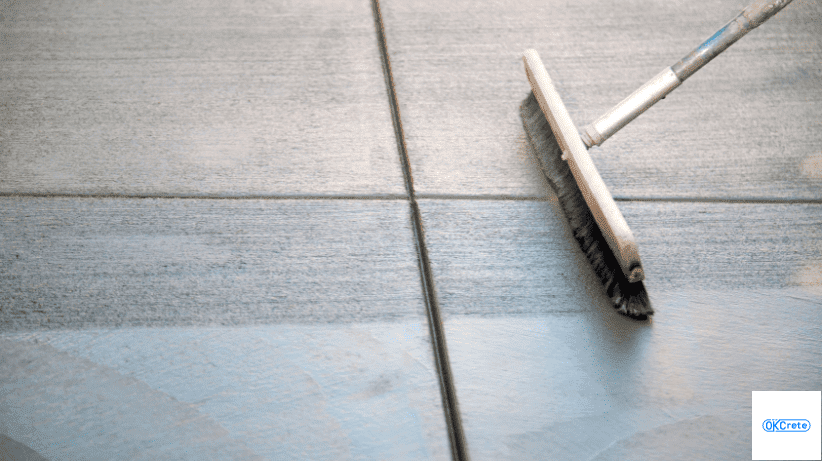 At OKCrete, we offer hundreds of options for customizing your patio or porch to fit your dream vision for your outdoor living area.
Between different stamped concrete patterns, colors, and durability grades, we can work with you to find the perfect match for your home – whether you're going for Tuscan villa, country farmhouse, modern chic, or anything in between.
We offer:
Decorative Concrete: Offering a variety of decorative concrete that will polish and enhance the appearance of your building. Give your porch or patio an aesthetic touch.
Colored Concrete: Colored concrete has an added pigment throughout the matrix of the concrete. We use it for casting stones, ornamental work, for finishing external surfaces, floors, window sill slabs, stair treads, and more.
Custom Concrete: Our professionals also use other types of concrete depending on the building and its aesthetic. Reach out to learn more about what we offer!
Stamped Concrete: This is designed to be stamped for decorative applications generally used in patios, porches, driveways, and sidewalks. Popular looks include cobblestone, tile, and even custom designs. It provides an elegant look, has almost no maintenance, and comes at an affordable cost.
Broom-Finish or Textured Finished Concrete: Broom-finished concrete is created by dragging a brook across the surface of wet concrete to imprint texture without color or sealant. This can give your porch more character while providing extra safety against slipping in wet conditions, perfect for small children or those with limited mobility.
How it Works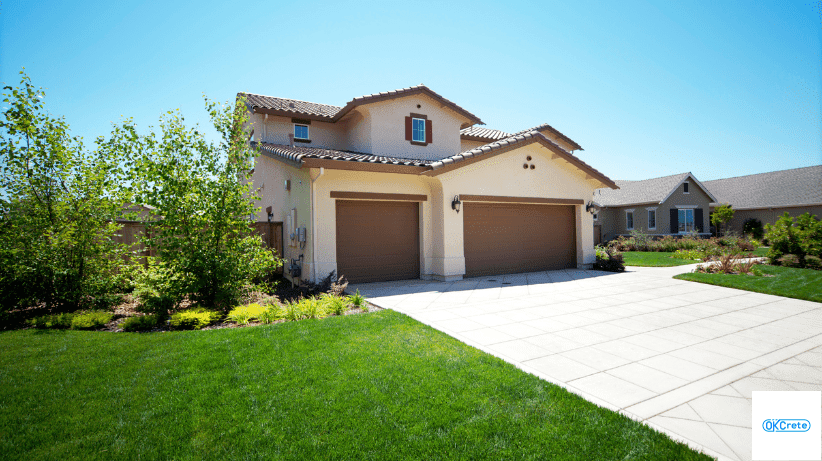 Step one – you'll get in touch with us to discuss your needs and vision.
Step two – our experts will work with you to suggest the best concrete solutions for your porch, patio, or driveway and provide a reasonable budget and timeline for installation.
Step 3 – our concrete technicians will come out and install your new patio, porch, or driveway to your specifications.
Finally, step 4 – relax and enjoy your new concrete landscape for decades to come.
About OKCrete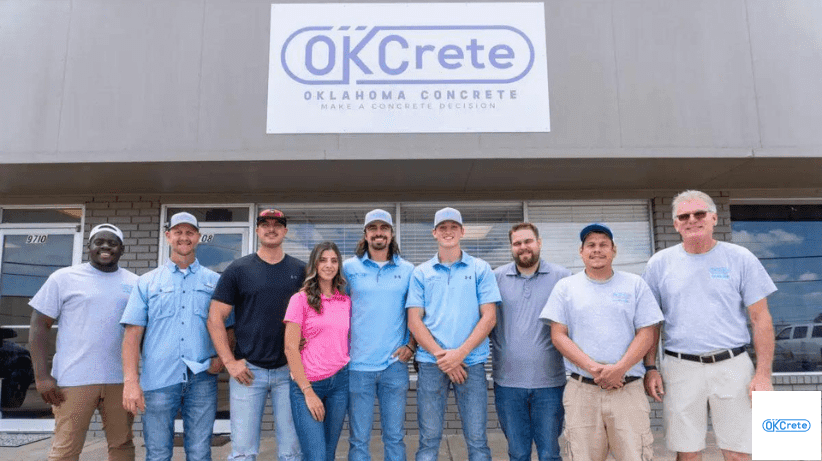 If you're looking for the best concrete contractors in your area, you've found one. At OKCrete, we provide high-quality concrete placement services for both residential and commercial projects. We have set high standards for concrete placement and provide all our clients with the right guidance and solutions that are designed to last.
With our concrete company, you can protect your driveways, patios, and buildings from structural damages with our professional concrete services. No project is too big or small for us.
If your home or office in Oklahoma City, Tulsa, or surrounding areas needs decorative concrete, concrete foundations, a concrete driveway or anything else, trust our concrete company – the expert concrete contractor – to complete your job effectively and on time.