What is Water Ratio?
The water ratio is one of the most important factors affecting the strength and durability of concrete. It is the ratio of the weight of water to the weight of cement in the concrete mix. A lower water ratio will result in stronger and more durable concrete.
There are a few reasons why a lower water ratio is important. First, water dilutes the cement paste, which is the binding agent that holds the concrete together. The more water that is added to the mix, the weaker the cement paste will be.
Second, water can cause the concrete to shrink as it dries. This shrinkage can cause cracks and other defects in the concrete. A lower water ratio will help to reduce shrinkage and prevent these defects.
Third, water can make the concrete more difficult to work with. A higher water ratio will make the concrete more workable, but it will also make it weaker.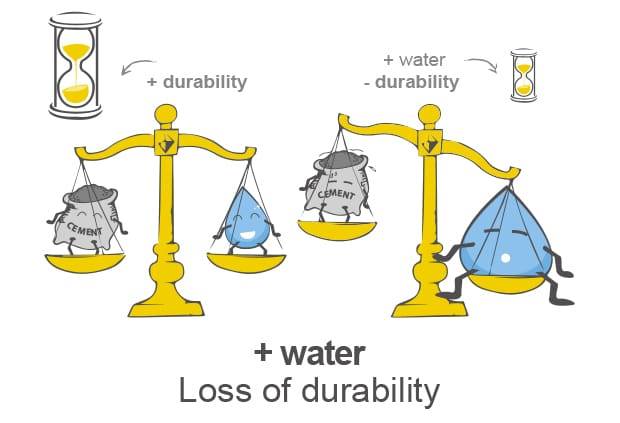 How Concrete Contractors Can Dilute Concrete
There are a few ways that concrete contractors can dilute concrete. One way is to add too much water to the mix. Another way is to use low-quality cement. Concrete contractors may also use water-based admixtures, such as plasticizers, to make the concrete more workable. However, these admixtures can also reduce the strength of the concrete.
How to Avoid Being Scammed by Concrete Contractors
There are a few things you can do to avoid being scammed by concrete contractors:
Get multiple estimates from different contractors.
Ask about the water ratio that they will be using.
Make sure that the contractor is licensed and insured.
Inspect the concrete before it is poured.
If you are concerned about the water ratio in your concrete, you can always hire a concrete consultant to help you.
Why Choose OKCrete for Your Concrete Projects
At OKCrete, we take the water ratio very seriously. We use only the highest quality materials, and we never dilute our concrete. We are committed to providing our customers with the strongest and most durable concrete possible.
We also offer a variety of concrete services, including:
Foundations
Driveways
Patios
Sidewalks
Retaining Walls
Stamped Concrete
Steps
And more
We are licensed and insured, and we have a team of experienced and qualified concrete professionals. We are confident that we can meet your concrete needs.
Contact OKCrete Today!
To learn more about our concrete services or to get a free estimate, please contact OKCrete today. We serve Tulsa, Oklahoma City, and the surrounding areas.
Here are some additional tips for avoiding being scammed by concrete contractors:
Ask the contractor to show you their previous work.
Get everything in writing, including the contract price, the water ratio, and the warranty.
Don't pay the full amount up front. Instead, pay a deposit and then the balance when the work is complete.
By following these tips, you can help ensure that you get the strongest and most durable concrete possible for your project.