When it comes to maintaining the structural integrity and aesthetic appeal of your home or business in Oklahoma City, there's often no task more crucial than concrete repair work. The ever-changing weather conditions in this region, from scorching summers to freezing winters, can take a toll on concrete surfaces, causing cracks, deterioration, and safety hazards.
Whether you're a homeowner looking to enhance your property's curb appeal or a business owner seeking to ensure the safety of your customers and employees, investing in professional concrete repair services is a wise decision.
At OKCrete, we specialize in providing top-notch concrete repair solutions tailored to the unique needs of Oklahoma City, Tulsa, and surrounding residents and businesses, ensuring that your concrete surfaces not only look pristine, but also stand the test of time.
Concrete Cracks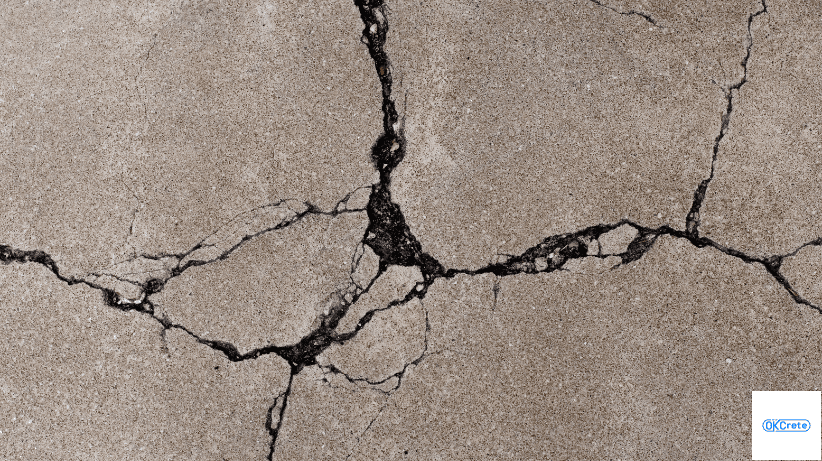 Cracks in concrete are bound to happen over time, or if you're not properly maintaining it. There are 4 different types of cracks that are seen the most and these include shrinkage cracks, expansion cracks, heaving cracks, and settling cracks.
To get a better idea of how each of these cracks occur, you can check out this blog. It'll give you a detailed explanation on each, as well as some videos, and bonus content so you're able to learn more about it!
Repairing Concrete Cracks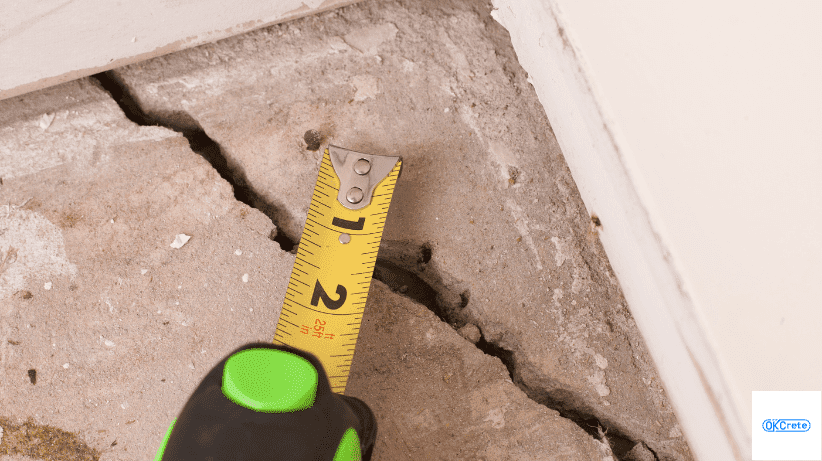 Fixing concrete cracks depends on the type of crack, its size, and the intended use of the repaired surface. Here are some common methods for repairing cracks in concrete:
Filling with Crack Sealants: For small cracks (typically less than 1/4 inch wide), you can use concrete crack sealants. Clean the crack, apply the sealant, and smooth it all out. This method is suitable for cosmetic repairs and preventing water penetration.
Epoxy Injection: Epoxy injection is used for structural cracks that need a more robust repair. It involves injecting epoxy into the crack to bond and strengthen the concrete. This method is commonly used in commercial and industrial settings.
Concrete Patching: For larger cracks and holes, you can use concrete patching material. Clean the area, apply the patch mix, and trowel it to match the surrounding surface. This method is suitable for repairing driveways, sidewalks, and other concrete surfaces.
Overlay or Resurfacing: If you have extensive cracks or surface damage, you may consider overlaying or resurfacing the concrete. This involves applying a new layer of concrete or a concrete overlay to the existing surface, providing a fresh and durable finish.
It's important to assess the severity and cause of the cracks before deciding on the appropriate repair methods.
For complex or structural concrete repairs, it's recommended to consult with a professional concrete contractor who can evaluate the situation and provide expert guidance and services to ensure a long-lasting repair solution.
Commercial Business Concrete Work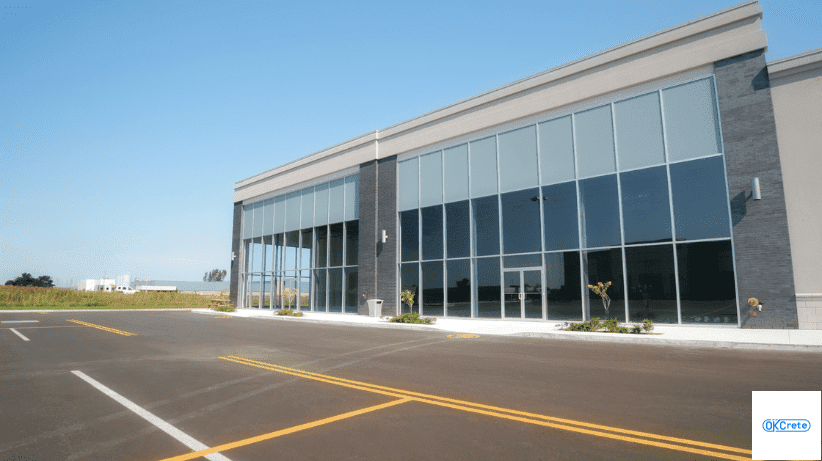 OKCrete handles projects from small industrial construction projects to large-scale infrastructure development. Our experts work with business owners, understand their needs, and deliver solutions that'll suit their commercial project requirements.
We take pride in our professionalism and expertise in concrete work. Moreover, our crafted solutions have stood the test of time.
Level up your business property with our commercial concrete solutions. We enhance the durability and structural performance of your property with quality products and services.
Our team efficiently delivers functional concrete flatwork and heavy-duty paving solutions for truck parking lots, loading docks, warehouse floors, colored and decorative concrete (indoor or outdoor), concrete sidewalks/walkways/ADA ramps, and more.
Residential Concrete Work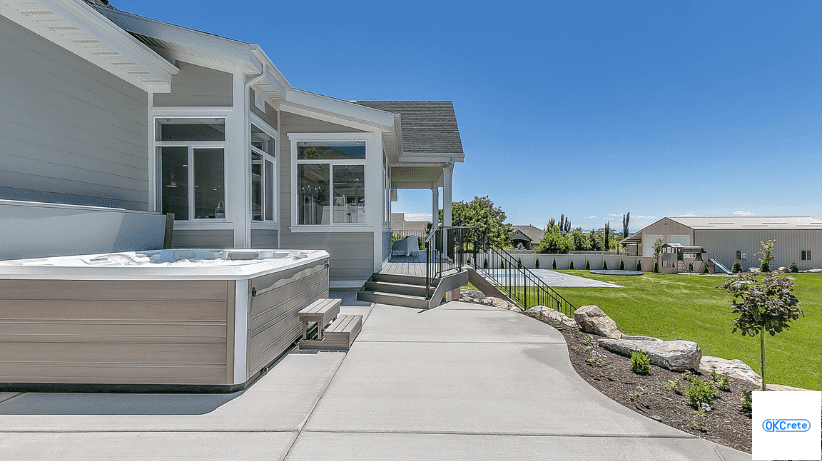 From your foundations to polished concrete floors, patios, porches, driveways, sidewalks, and decorative features, our team can do it all. We understand that your home is one of your biggest investments, that's why our team strives to help you save your time and money, and deliver results that exceed your expectations.
We use cutting-edge techniques and machinery to ensure that your home isn't damaged in any way during the concrete placement process. If you're not sure what concrete mix is right for your home, talk to your experts – we are here to help steer you in the right direction.
We are confident that you will be satisfied with the quality of your work, the durability of your products, and the beauty that each project adds to your home. Our integrity and professionalism have helped us rank amongst the top concrete companies in Oklahoma, as well as the #1 concrete contractor in Tulsa.
We can repair, replace, or install concrete driveways, patios, walkways/ramps/stairs, retaining walls, foundations for homes/buildings/and structures, footing support slabs, stamped and colored concrete, french drains and concrete drainage, pool decks, and more.
So, if you need a new concrete slab added to your home, we got your back. All you have to do is reach out for a free estimate and we'll be in touch!
In Summary
It's very important to ensure that any damaged concrete is repaired correctly. Whether you use that concrete area to walk, sit, entertain, or if your employees and customers are walking on it daily, safety should be your number one priority.
We're here to help with concrete repair, but to also install any new concrete surface or areas that you need to add to your home or commercial business.
Any concrete surface, especially the ones that you utilize the most, should be sturdy and ready for foot traffic, furniture, weather, or anything else that may impact it.
That's why you should call OKCrete. Not only are we professionals in the field, but we want to help you and help keep our community safe.
About OKCrete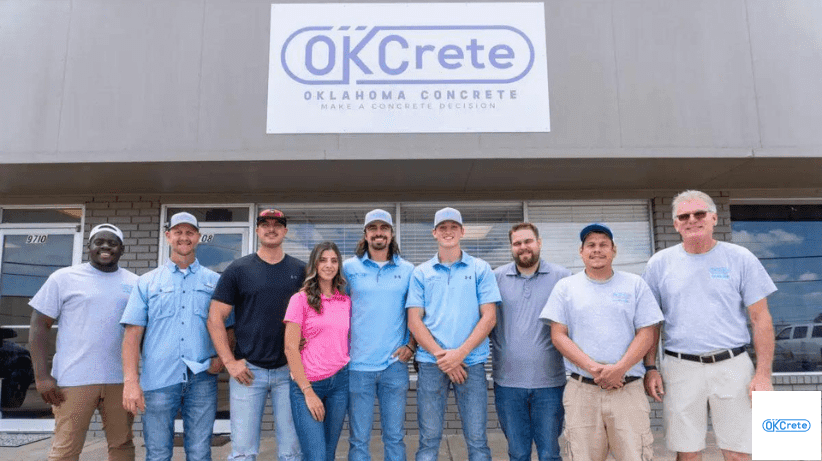 If you're ready to start your concrete project at your house and you need a professional concrete company, you've come to the right place. We pour concrete as successfully as we finish each project.
Our concrete work has been called 'the best,' and we continue to prove that with every concrete project. So, if you're ready for quality work, let's get started.
Our concrete company provides high-quality concrete placement for both residential and commercial projects. We have set high standards for concrete placement and provide all our customers with the right guidance and solutions that are designed to last.
With us, you can protect your driveway, patios, and buildings from structural damages like cracks and other issues with our professional concrete services.
No project is too big or small for us. We treat every concrete project with the precision it deserves from simple concrete repair work to custom patio areas.
If your home or business in Oklahoma City, Tulsa, or surrounding areas needs a retaining wall, trust us – the expert concrete contractor – to complete your job effectively and on time.