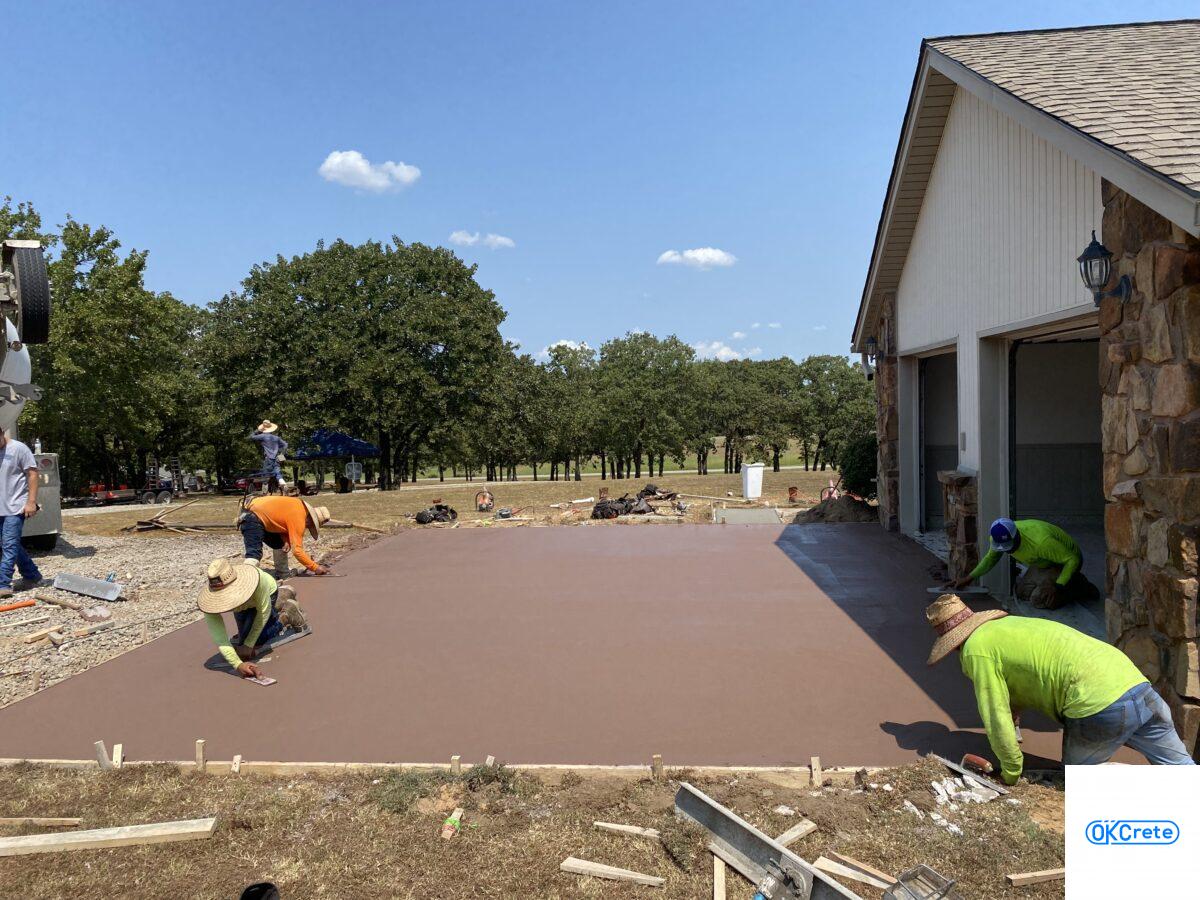 If you don't know what your concrete warranty covers, read on to learn what to expect
So you have decided to have a contractor pour a beautiful new concrete slab for your next outdoor project — an excellent choice. Professionally installed concrete patios, driveways, pathways, and pool decks can give your home or business a finished look and increase the safety and functionality of your outdoor space.
But what is covered in the warranty? What risks come with hiring a professional to install your concrete? What defects are typical? Which are the fault of the contractor? And what is covered by the warranty?
When it comes to concrete floor warranties, you want to know what is and isn't covered. Most warranties will cover defects in the material and workmanship for a specific amount of time after installation, but not everything that happens afterwards is covered.
This article from OKCrete will dive into what will happen after your concrete is poured, the natural process concrete goes through as it settles, and what the warranty covers.
And if you have old concrete in need of repair that maybe didn't last as long due to installation problems or environmental bad luck over the years (like earthquakes or tree roots), OKCrete can definitely replace concrete. However, we don't do concrete repairs for recently-installed concrete from another company that didn't meet your expectations.
What To Expect When Your Concrete Is Poured
The pouring and setting of concrete can be considered an art form, not an exact science, that comes with experience. Many natural factors come into play that could cause common issues with your finished concrete project. You need to know what could happen when your concrete is poured and if it's covered by warranty.
Note: Every contractor will have different, specific rules about what is covered and what isn't. These are general guidelines. Ensure you read your contract carefully.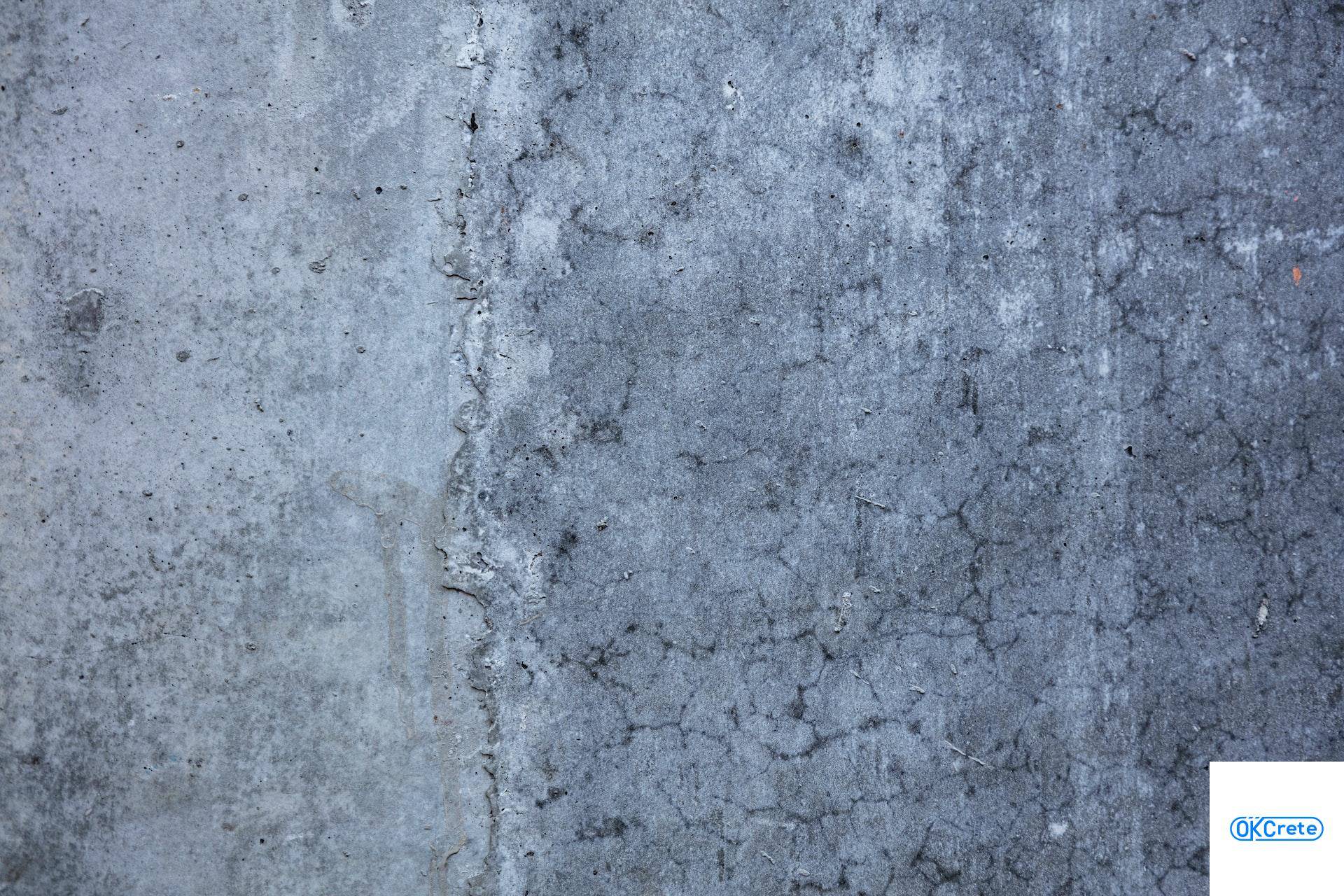 Cracks
All concrete will crack at some point, and while it annoys contractors and homeowners, it's normal. Contractors can't guarantee that your concrete won't crack, but they can take steps to help prevent substantial cracks. If a crack does appear, they may be able to help repair it.
The industry standard for repairing or replacing cracked concrete is greater than the width of a quarter. If the crack exceeds that measurement, repair or replacement may be required. While surface or hairline cracks aren't usually covered by warranty, larger ones may be.
Flaking and Popping
Concrete is a very durable material but is not immune to problems. Harsh weather conditions–such as extreme cold or heat–can cause the surface of the concrete to flake or pop off. While this may expose aggregate close to the surface, it will not compromise the integrity of the slab.
Contractors cannot warranty any damages caused by harsh weather conditions, as the elements cannot be controlled. The industry standard for repair or replacement of flaking or popping concrete is a minimum of 20% of the total work area affected. Depending on the issue, contractors may warranty flaking or popping concrete if 20% or more of the entire work area is affected.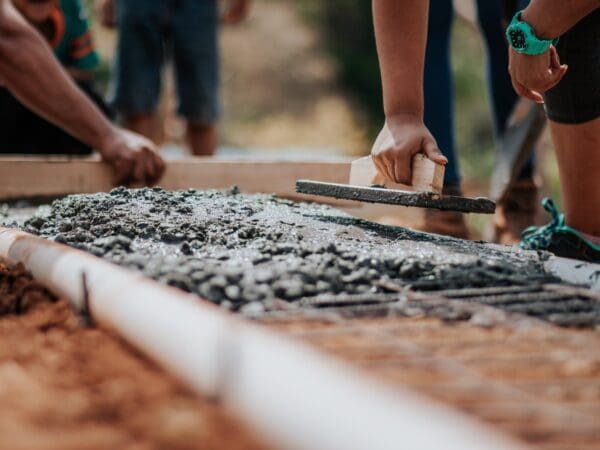 Discoloration
Color-matching concrete is an inexact science. Contractors will make every effort to give you the color you want, but there are many chemical reactions taking place that could alter the color.
The color of concrete changes as it cures, which can take weeks. Contractors will most likely not warranty any concrete colors not exactly matching or discoloration over months or years.
Shifting and Settling
Shifting and settling a driveway, sidewalk, porch, patio, or garage floor can occur over time due to factors like sub-grade settling, underground root growth, or shrinkage of the subsurface layers. This is normal and not something covered under warranty.
Frost Heave
Concrete is a mixture of cement, water, and aggregate, so when the temperature drops, the water freezes, causing the concrete to heave. These cracks are not covered by warranty because a natural event causes them. There are preventative maintenance services available like driveway sealant to take the brunt of the elemental stress instead of the concrete being directly affected, helping your concrete's appearance and structural integrity.
After it is newly poured, many natural factors will come into play with your concrete project. Contractors will tell you to wait at least 45 days to allow the concrete to set before assessing any damage that has occurred and if it is covered by warranty.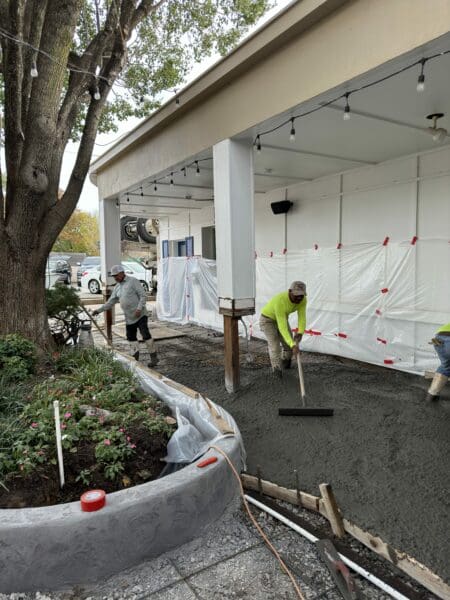 Questions To Ask About Your Warranty
Before you decide on a concrete contractor and give them the green light to start pouring, you must research their offered warranties. Here are some questions to ask your contractor to ensure you have the best coverage for your concrete projects:
Who will enforce the warranty? Contractors often subcontract jobs to other contractors. Be sure to ask who is responsible for the warranty should it be needed.
Can I negotiate my warranty? Ask to see the contractor's warranty document and see if there is anything you can add to it or make more specific to your project.
Will the warranty be affected by the project schedule? For larger projects, there could be other contractors working together or one after the other. A good contractor will wait to ensure a perfect pour at the best time, despite other contractors' work schedules.
Can I Get Everything In Writing? Sometimes warranties can be implied. Ensure that you get everything in writing to avoid confusion. Ultimately, whatever's agreed to in writing in your contract is what is included. Your project may not have any warranty included and any warranty customizations you request will likely increase your project's total cost to account for the additional risk taken on by the contractor.
Try to get as many answers about your concrete project as possible. The more you know about what is covered and what isn't, the better off you will be.
Beware Warranties that are "Too Good To Be True"
Beware of shady contractors using their warranty as a way to do unsatisfactory work with the attitude of "we'll fix it later if they complain" – which is definitely not how we operate at OKCrete!
Some contractors offer attractive warranties and skip town if anything goes wrong.
Make sure to consider the included warranty when comparing quotes–apples to apples–but in light of the company's overall reputation.
At OKCrete, we have dozens of 5-star reviews because we have the experience to do work right the first time and the integrity to fix problems within weeks of any trouble, not delaying any required repairs.
At OKCrete, we don't include things like 2-, 3-, or 5-year warranties because any problems from materials or workmanship will be evident within weeks, not years.
OKCrete Oklahoma Concrete
4.8

Stars - Based on

112

User Reviews
Final Thoughts
Concrete will have subtle faults and flaws as it dries and settles. This is normal and any minor cracks or shifts probably won't be covered by a warranty. Any contractor saying they cover cosmetic cracks is perhaps just looking to get your money and shouldn't be trusted.
Many natural factors come into play when it comes to installing outdoor concrete, which a warranty won't cover. Weather conditions, ground temperature, pollen, moisture, and wind are some factors the contractor cannot control. Most good contractors will wait for a nice day to pour, but you may need your concrete project done quickly.
A professional concrete contractor should be able to tell you exactly what might happen as your concrete settles, how they will determine if a crack is structural, and if their warranty will cover the replacement or repair of the slab.
If you are in the Tulsa, Oklahoma, area and have a concrete project in mind, contact OKCrete for the best service and warranties. Click the link below for a free in-person quote and a thorough explanation of how OKCrete handles any post-install concerns.