Concrete is a popular choice for driveways and retaining walls. It's durable, affordable, and easy to customize the install to your unique property and preferences.
However, it's not easy to find a reputable concrete contractor with high quality standards. See the photos for one of our many driveway and retaining wall projects in West Tulsa that demonstrates our expert concrete services.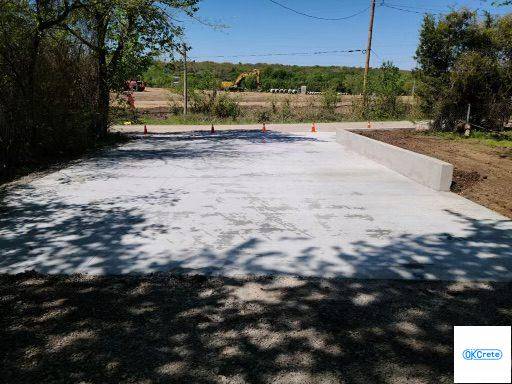 Why Choose A Concrete Retaining Wall?
This project was for both a concrete driveway and a concrete retaining wall so let's talk about why concrete is a great choice for retaining walls.
Besides being customizable to your preferences, such as shape and color, it's also long-lasting.
Doing a wood railroad tie retaining wall is never preferred to concrete because it attracts wood destroying insects like termites, it won't last forever, and is susceptible to earth movement to the point of toppling the wall. Plus, you cannot choose the color; it's just rotting wood color.
Concrete is available not only in colors ranging from dark gray to light gray but also integrated colors like red and blue. If you'd like, your decorative concrete retaining wall can look even better with a variety of textures like a brushed finish or seal coat.
For strength and longevity, your retaining wall will have a steel rebar frame and its thickness will be customized to the PSI required for your installation.
What are the qualities of a great contractor?
A great contractor will take the time to listen to your ideas and develop a plan and accurate quote for your project.
They'll work within your budget, keep in good communication throughout, and then make sure you're satisfied before requiring final payment.
Workers are reliable, punctual, and respectful of your property.
Of course, we do our best in regard to all of these qualities, which is why we're an excellent choice for any of your concrete work!
Conclusion
When it comes to concrete work in Tulsa, Oklahoma, look no further than OKCrete Oklahoma Concrete. We specialize in concrete driveways, retaining walls, and other residential and commercial concrete projects. We take pride in our work and customer satisfaction is a top priority.