Residents of Oklahoma City, Tulsa, and surrounding areas, if you're getting a new concrete patio added to your home's landscape, you want to make sure it lasts as long as you live there. It's not only a financial commitment, but it's a part of your home and if it's done right and kept well, it can really add to the curb appeal.
OKCrete, the #1 concrete contractor in Tulsa, is here to not only provide you with the tips and tricks you need to know so you can perform proper maintenance, but also to provide you with a company you can trust.
So, what are the best ways? Here are some tips!
Make Sure it Stays Clean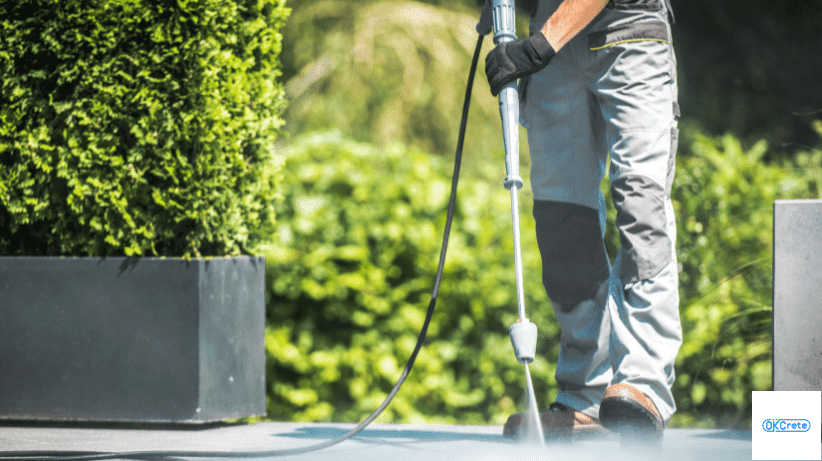 We all learned about the process of erosion in grade school, right? Well, if you can't remember, it's the process in which passing entities like water and soil, particularly if they have high mineral content, wear away at stone and natural metals.
So, you want to make sure you keep your concrete patio clean so this doesn't happen. If not, the surface can develop holes, start cracking, and begin to crumble before you know it.
The best way to clean it is by using a pressure washer or your average garden hose with a spray attachment to spray away dirt, debris, and other contaminants that may find their way onto it. You can use liquid dish soap and a broom to scrub any sticky spills, bird droppings, etc. as well.
Sealers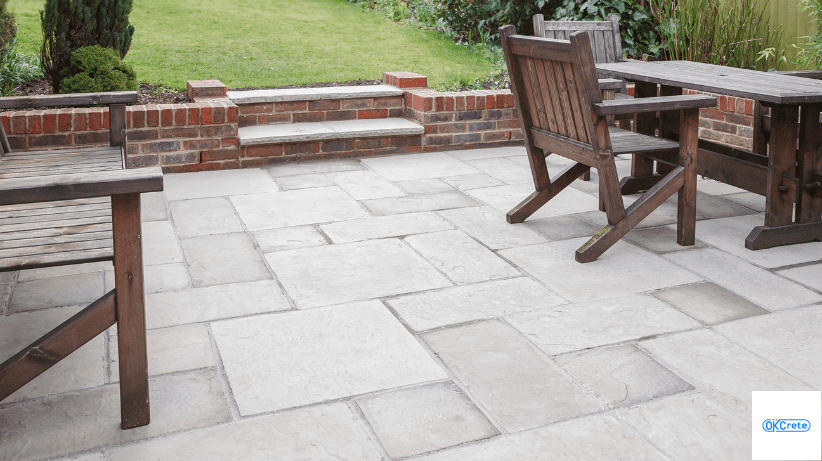 Sealing will protect your concrete from early corrosion. It also preserves the shine and color of stamped concrete. It's best to have an expert concrete contractor to seal, however, if you decide to try it yourself, be sure that you do it properly.
The area needs to be spotless and completely dry before applying any sealers, because wet surfaces can make the sealant bubble or break.
Outdoor Rugs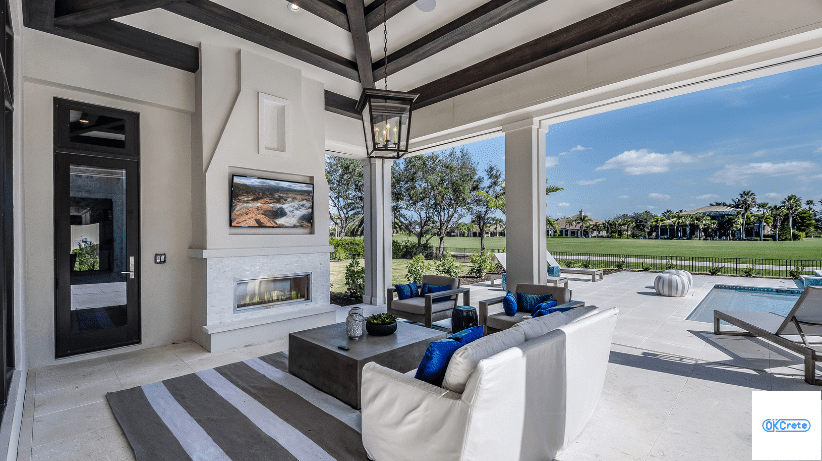 Outdoor rugs are not only a great addition due to the various amounts of styles and colors you can choose from, but they also help protect it. How does this help?
If you have outdoor furniture on the patio, over time it'll create scratches and damages from the chair legs and tables. These scratches will mess up the sealant over time, so it's best to protect it with a nice carpet.
They also help with stains and spills. So, instead of having to scrub the whole concrete floor and spray it, you just have to wipe up the carpet instead! Much easier and takes less time.
Who doesn't want a fun outdoor carpet to add to the aesthetic of their outdoor living space that ALSO protects your concrete?
Don't Use Harmful Chemicals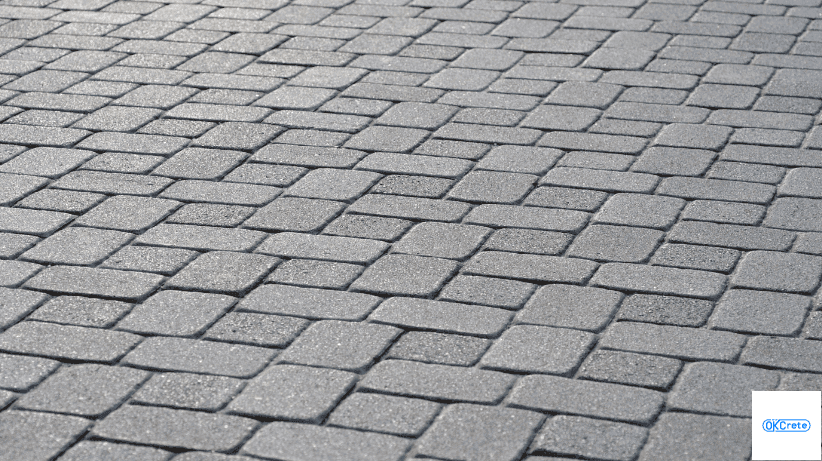 Products that contain ammonium nitrates and sulfates are very harmful because they attack the concrete directly. One of the products you should refrain from using are deicing salts. They are great for clearing ice away from your walkway, but they can cause damage to the surface.
If you're going to use salts, at least try to avoid using them the first winter after your patio is freshly installed, since the new concrete will be at its most vulnerable.
One thing you can replace salt with is cat litter – yes, that sounds crazy, but it works clear ice away just as well as salt and is much less harmful.
Take Cover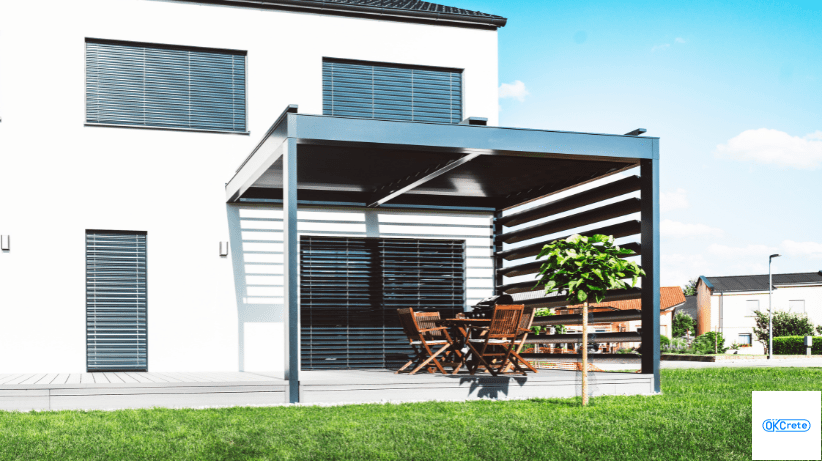 A covered concrete patio has less exposure to the weather elements, hence the longevity of its life. So, if you're planning on having it for a long amount of time, you can add a canvas cover or pergola. Pergolas are actually something we offer if you're looking to add a beautiful concrete pergola to add to your beautiful concrete patio!
Watch the Plants!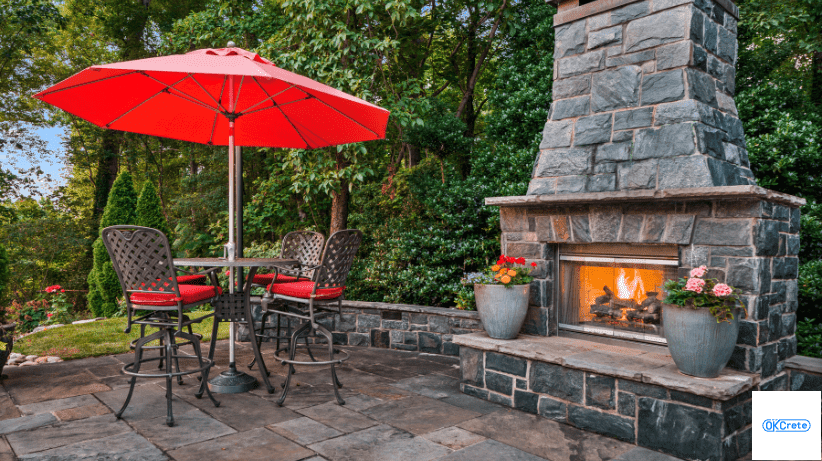 Oklahoma City residents feel like every time they weed whack, more and more plants seem to find their way through the cement and around it. Roots will grow beneath the concrete, push it up, and cause it to crack if the trees and bushes aren't managed properly.
To avoid this, have the roots in your yard trimmed regularly so they don't endanger your concrete! You may also want to consider taking down any trees that have developed extensive roots as well.
When concrete cracks, it's best to replace the concrete slab instead of attempting to repair it.
The Bottom Line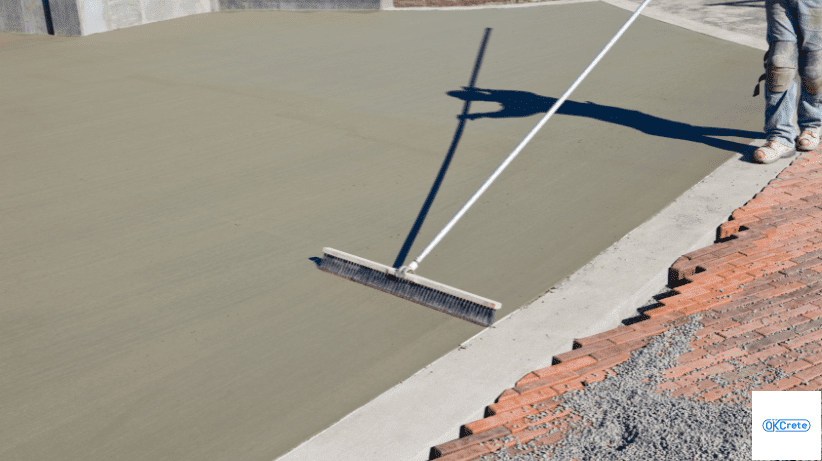 From your foundations to polished concrete floors, patios, porches, driveways, sidewalks, and decorative features, our team can do it all. We understand that your home is one of your biggest investments, that's why our team strives to help you save your time and money, and deliver results that exceed your expectations.
We use cutting-edge techniques and machinery to ensure that your home isn't damaged in any way during the concrete placement and curing process. If you're not sure what concrete is right for you, talk to our experts – we're here to help!
We are confident that you will be satisfied with the quality of our work, the durability of our products, and the beauty that each concrete project really adds to your home. Our integrity and professionalism have helped us rank amongst the top concrete companies in Oklahoma City.
Integral Color Concrete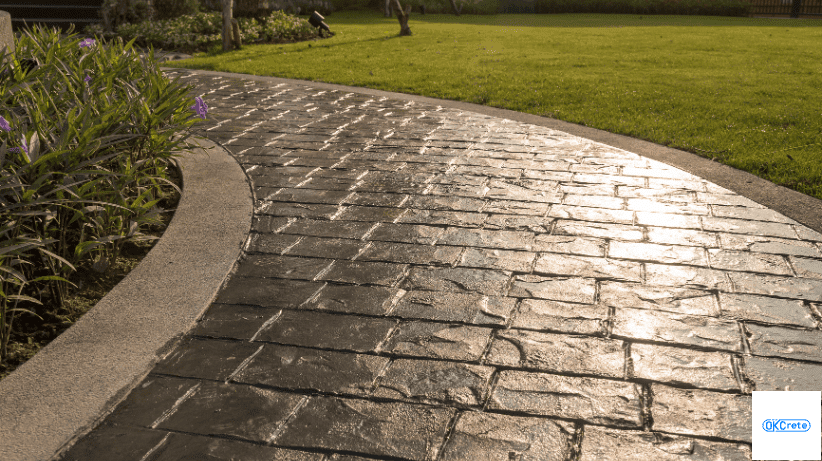 We offer integral color concrete, stain, and patterned. With this, you now have a new opportunity to further optimize the look of your home or commercial land with customized color concrete. The best part about decorative custom concrete, is the fact that we can make it look like wood, cobblestone, brick, etc. This is the best way to get a fully custom concrete area. Yes, you heard us right – totally custom concrete.
What We Offer
OKCrete Solutions are the #1 concrete contractor in Tulsa. Need a driveway? We can help. How about a sidewalk? We can help with that too. Anything that makes your yard and residential area what you desire, we have the professional team to help you with that.
We'll replace any cracking sidewalks, cracks in your driveway, porch, etc., as well as ensure that the deck around your pool is desirable, sturdy, and ready to entertain. For a list of our services, head to our website!
Concrete pool decks will help you elevate the look of your pool area with elegance, strength, and safety.
The retaining walls are built at any size, whether decorative or solely functional, and we'll make sure it's built to last for years.
The cool thing about integral color concrete is, you can add color to your concrete! This adds variety and style to your outdoor space.
About OKCrete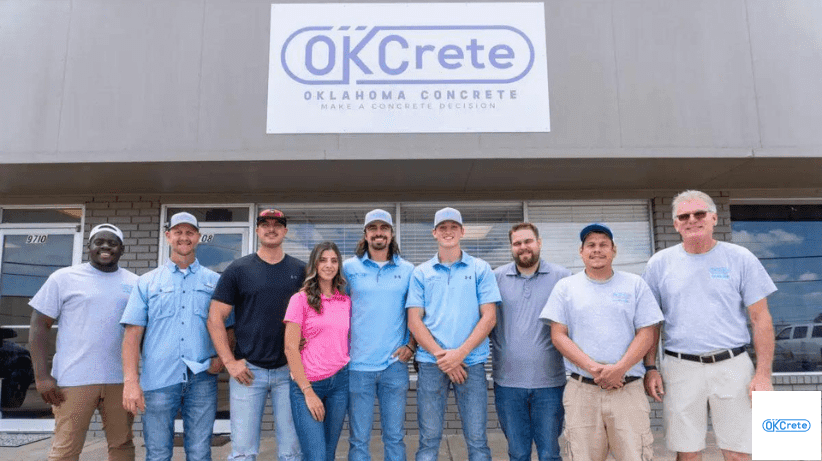 If you're ready to start your concrete project at your house and you need a professional concrete company, you've come to the right place. We pour concrete as successfully as we finish each project.
Our concrete work has been called 'the best,' and we continue to prove that with every concrete project. So, if you're ready for quality work, let's get started.
Our concrete company provides high-quality concrete placement for both residential and commercial projects. We have set high standards for concrete placement and provide all our customers with the right guidance and solutions that are designed to last.
With us, you can protect your driveway, patios, and buildings from structural damages like cracks and other issues with our professional concrete services.
No project is too big or small for us. We treat every concrete project with the precision it deserves from simple concrete repair work to custom patio areas.
If your home or business in Oklahoma City, Tulsa, or surrounding areas needs a retaining wall, trust us – the expert concrete contractor – to complete your job effectively and on time.